| | |
Feb 9, 2010 Unchosen bonus part - plus ebook of DBC!
Now with Geocities down, I was forced to move my site. I finally caved and got my own domain with every intention of adding more fic to it (eventually even some dr who fic possibly).

While I was at it, I posted ebook copies of DBC for anyone who wants it for their Kindle or whatever (guess what my mom got for xmas). Plus, I added a bonus smut scene to the last chapter of Unchosen (previously posted as a surprise Easter Egg for those who sent feedback).

A little late to the party, but I joined livejournal too. I finally have free time again, and I miss the fanfic and discussions from the email lists which have pretty much been abandoned.
---
May 21, 2008 - Unchosen Chapter 7
Chapter 7 of Unchosen posted. Normal length this time. Also, if anyone out there is really good at doing graphics, I have a request for a cover for Unchosen. I tried contacting Dusty, who did the beautiful cover for Death Brings Clarity, and had started on one for Unchosen (before I lost it in my computer theft), but I don't know if my contact info for her is still valid and I haven't heard back. So I'm looking for anyone else who would be willing to give it a try? Let me know, and I would be so appreciative. Thanks!
http://www.jkphilips.com/buffy/unchosen/unchosen7.html
---
May 4, 2008 - Unchosen Chapter 6
Chapter 6 of Unchosen posted. I probably shouldn't apologize for this (except that it delayed posting), but... the chapter is really long. Longer than I expected it to be. Like over 50 pages. I should have maybe split the chapter, except I wanted the whole flashback together as one chapter, for narrative reasons. Anyway, it's equivalent to like 3 of any of the previous chapters. So enjoy!
http://www.jkphilips.com/buffy/unchosen/unchosen6.html
---
April 11, 2008 - Questing Part 6
Added another chapter to Questing. Next chapter of Unchosen will hopefully come next week after the taxes are done. Thanks to everyone who sent feedback. I'm beginning to think I might still have an audience. Here's Questing Part 6: www.jkphilips.com/buffy/quest/quest6.html
---
Send feedback by or on
LiveJournal
.
GILES:
While I'm loathe to say it, the fact is -
the Slayer rarely lives into her mid-twenties.
It follows that she'd exhibit signs of maturity early on.
Her whole life-cycle is accelerated. JENNY:
Still, you should be careful about treating her like a grown-up. GILES:
I'm not her father, Jenny.
-- shooting script --
"Surprise" by Marti Noxon
Awards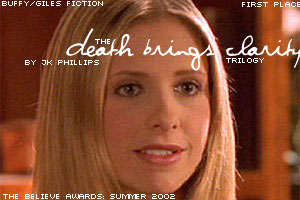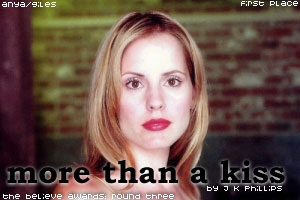 2001 Summer Halo Awards
"Best Unconventional Romance" and
"Best Series" for The Death Brings Clarity series.

August 2001 Author of the Month for Destiny Awaits. Judge's
REVIEW
.
---
Fanfiction
The Death Brings Clarity Trilogy:
Post-"Gift" epic with my own version of Buffy's resurrection.
Book 1: Death Brings Clarity - completed June 24, 2001
Book 2: The Ticking Clock - completed July 30, 2001
Book 3: The Family Business - completed March 16, 2002
Epilogue: The Fine Art of Blackmail - completed June 26, 2002

Download full ebook for Kindle, iPad, Nook, Sony, or MS Reader!
Unchosen
-
unfinished
- Sequel to the Death Brings Clarity Trilogy
A Questing We Will Go
-
unfinished
Part 1 Part 2 Part 3 Part 4 Part 5 Part 6 New! 4/11/08
A birthday present for Gileswench: Post-"Grave", What's up with mini-slayer Dawn?
warning: very, very dark
An alternate ending to "Normal Again". Buffy decides to follow through with the psychiatrist's advice for reclaiming her sanity.
warning: dark
Set after "Wrecked": Was Giles right to leave? What will he find when he comes home?
*NC17*
Giles/Anya PWP
What was edited out of "Tabla Rasa". ;)
---
Updates
To receive notification when I post new chapters or stories:
Or me, and I'll send you a short email when I post a new chapter! (4-8-08: If you asked me to add you to my update list in the past, please re-email me, as I likely lost your address when my computer was stolen. Thanks!)
---
Buffy Fanfiction Related Links
Buffy/Giles fanfiction archive
Watcher Chronicles
Tricia Stewart's fiction. Love her stuff.
Gail Christison's site. Love her stories. Love her epilogues. Heavily Giles-centric.
The Darker Side of Sunnydale.
If it's here, it's good.
Falling - B/G fanlisting.
Coffee - ASH fanlisting.

Link to me

Save the image to your own site and link back here with this code: <table><tr><td><a href="http://www.jkphilips.com">

<img src="stalwart.jpg" border=0></a></td>

<td>Her Stalwart Standing Fast<br>

Fanfiction by JK Philips</td></tr></table> Will look like:

Her Stalwart Standing Fast
Fanfiction by JK Philips